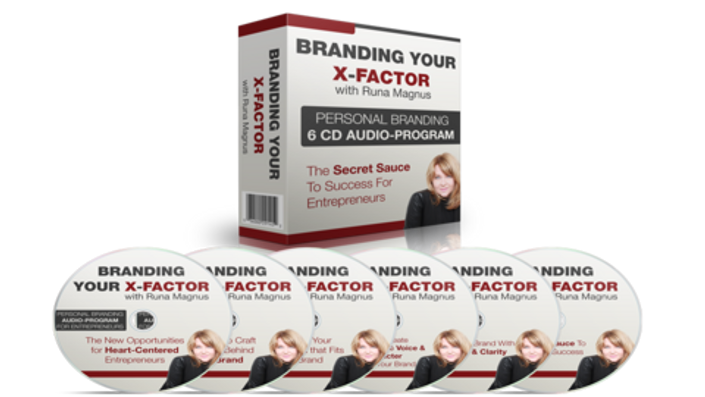 BRANDING YOUR X-FACTOR | 6-MODULE AUDIO COURSE
The Secret Sauce to Success for Change-Makers | #1 BEST SELLER Motivational Personal Branding Audio Program
GET YOURSELF INTO THE GEAR!
Relax, sit back be inspired and motivated by listening to the Inspiring 6 CD Audio Personal Branding Program with Runa Magnus, the European Awarded Leadership & Personal Branding Strategist from Iceland.
Audio Training Program for Entrepreneurs, Speakers, Coaches or Consultants who want to Build their Own Authentic Personal Brand.
6 DOWNLOADABLE MOTIVATIONAL CD'S &
6 DOWNLOADABLE TRANSCRIBED MANUSCRIPT
CD #1 The Opportunity Today
CD #2 Crafting the Story Behind Your Brand
CD #3 Finding Your Ideal Client Data
CD #4 How to Identify Your Brand Character
CD #5 Promoting Your Brand. Where & How
CD #6 The Secret to Sustainable Success
Your Instructor
RÚNA MAGNÚS, author of Branding Your X-Factor - How the Secret to Your Success is Already Right in Front of Your...Tits, and Your SeXy Factor - 5 Steps to Shine from the Inside Out.
Rúna is a creative and fast-forward thinking lifetime entrepreneur from Iceland.
Known for her humor and a keen sense of business insight, Rúna has been lauded for helping leaders, entrepreneurs, and organizations discover and brand their 'X-Factor' – the assets which make them unique – which she says is often "right in front of your tits."
Rúna played a leading role in Iceland's National Assembly of 2009 where the nation's leaders collectively worked together to reinvigorate the country following their economic crash. The group tapped into the values and future vision of the island nation and transformed Iceland's economy by branding their uniqueness, or their X-Factor, as Rúna calls it.
Seeing first hand the immediate benefit and long-term results of a whole nation working collectively to discover who they authentically were, the outcome of this unique assembly became one of the cornerstones of her successful business branding process.
Rúna has transformed her own career and currently dedicates her work to supporting global leaders and their teams to brand their own X-Factor to unleash their fullest potential while discovering their natural flow in business and life.
FEATURED & QUOTED IN THE INTERNATIONAL MEDIA;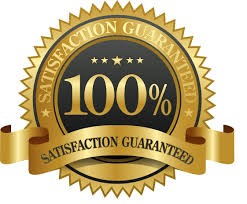 If you're not totally "head over heels" and thrilled with this course, you may cancel your enrollment within the first 30 days, receive a full, 100% money-back refund, and still keep all the bonus audiobooks and audio course -- with my compliments! That's how absolutely certain I am that you will find tremendous, life-changing value in every module of the BRANDING YOUR X-FACTOR Audio-Course ;-)
Frequently Asked Questions
When does the course start and finish?
The course starts as soon as you enroll, and it finishes based only on your schedule - no one else's. It is a completely self-paced online course - you decide when you start and when you finish.
How long do I have access to the course?
How does lifetime access sound? After enrolling, you have unlimited access to this course for as long as you like - across any and all devices you own.
What if I am unhappy with the course?
We would never want you to be unhappy! If you do the work, show us your results, and are still unsatisfied with your purchase, contact us in the first 30 days and we will gladly give you a full refund - no questions asked!
Who should sign-up for this course?
The BRANDING YOUR X-FACTOR 6 CD Audio-Course is designed for ambitious, heart-centred coaches, consultants, speakers and entrepreneurs who want: *To create their own clear, future roadmaps for their life *To know how to find their ideal clients *To craft a compelling story behind their brand *To understand the most authentic way to brand your business *To understand their X-Factor is *To unleash their "X-factor" in their brand with confidence and clarity.
Who should NOT sign-up for this course?
This course is NOT a good fit for Coaches, consultants, speakers, and entrepreneurs who; *Are perfectly content with where they are and have no desire to see a change in their life *Don't believe they can change *Are not willing, for whatever reason, to take ACTION towards building a successful brand that people will love.
Will I have time for this course?
Yes, for sure! It's completely self-paced, so if your schedule is packed, then it's completely fine if you take this course bit by bit.
30 Day No Questions Asked, 100% Money-Back Guarantee
If you're not totally "head over heels" and thrilled with this course, you may cancel your enrollment within the first 30 days, receive a full, 100% money-back refund, and still keep all the bonus audiobooks and audio course -- with my compliments! That's how absolutely certain I am that you will find tremendous, life-changing value in every module of the BRANDING YOUR X-FACTOR Audio-Course ;-)